We develop and install software with programming languages for industrial machines and equipment. We always look for efficient solutions for your company.
Our goal is through industrial automation to maximize and optimize production,
reduce the emission of waste of any kind, improve safety conditions, and also reduce the effort or human interference on this machine process.
Our company is composed by a team of technicians specialized in the application of techniques and software development for CLPS, IHMS, inverters and servo drives.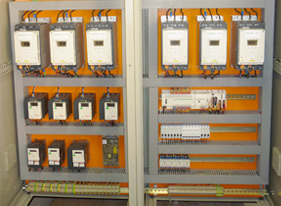 Panels
We operate in project development, manufacture, setting and start-up of our panels, focusing on quality, fulfilling the requirements of national and international technical standards.
These are some of the products produced according to current technical standards and given the trilogy of quality, technology and low cost:
Control panels
Main Control LV
Control panels and signage
Power panels
Panels lighting
Motor Control Center
Control Center with starter motors / drives
Panels with PLCs and IHMs
Panels of all or any industrial process